Running & Managing Jobs
Managing Jobs
From a project's job list page, you are given a list of actions next to each job.

These actions (from left to right) are:
View Tasks
View and manage the tasks for the job. Learn more about Working with a Job 's Tasks here.
Run Now
Run a job as an adhoc execution. Learn more about Using "Run Now" Executions here.
Manage Job Dependencies
Manage cross project job dependencies and view the jobs that this job is dependent on. Learn more about how to make jobs dependent on other jobs here.
View Execution History
View a history of this job's executions and the logs of each execution.
For each execution, you can find a log of events such as information, debug and any errors.
You can also see the duration and the time you started each execution of a job in the image below.

View Schedules
Add and remove schedules for the job. Learn more about Using Schedules here.
Enable and Disable Schedules
You can enable and disable schedules for a job by clicking on the schedule toggle.
Enable Schedules

This will display the schedules available for this job that can be enabled.
Please click on the schedules you would like to enable.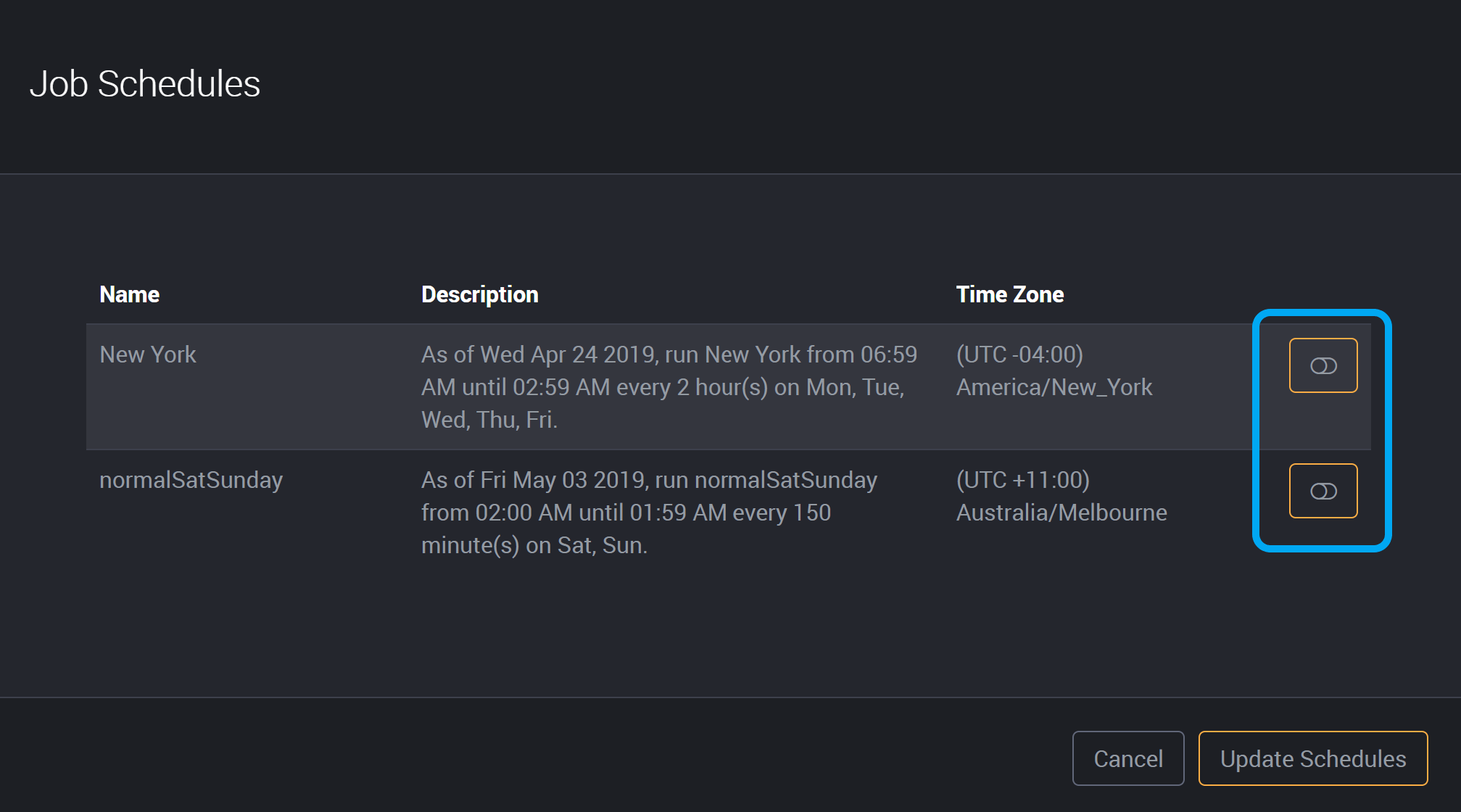 Disable Schedules
If you would like to disable any enabled schedules just click on the schedule toggle to disable all schedules.

Edit Job
Edit details of the job such as its name, log level, email notification settings and job dependencies. Learn more about editing jobs here.
Delete Job
Remove the job from Loome Integrate. Note that the tasks sequenced in the job will still exist in the project.
Running Jobs
Jobs are the main component of Loome Integrate and they can be executed using various methods and strategies.
Using "Run Now" Executions
"Run Now" executions, as the name implies, allow users to run jobs whenever they want with the click of a button.
You can run a job at anytime by using the distinctive play button which appears in multiple areas of the application such as the project jobs page and the top right corner of the sequenced tasks page.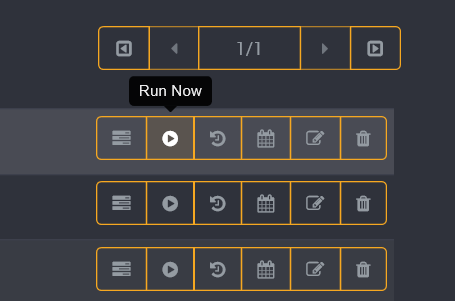 Clicking this button will show you the run now preparation form, which allows you to confirm if you want to be redirected to the real-time execution logs page.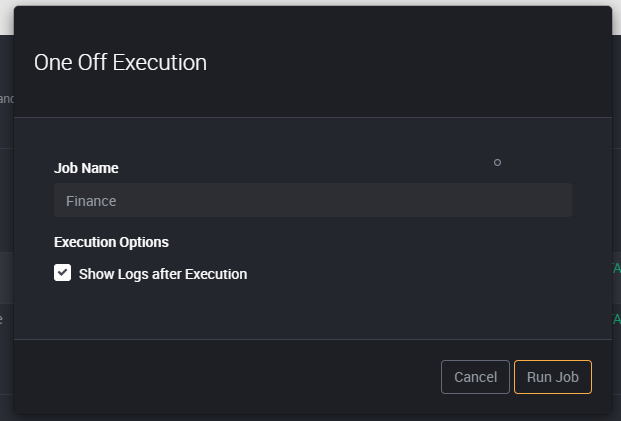 Note that unlike scheduled jobs, running a job manually will not factor in if the job is running already and will run no matter what.
Sort and Filter the Job Page
You can sort and filter a list of jobs in a project by clicking on the Sort/Filter column title.

Use the search bar, highlighted in the image below, to filter and search the list of jobs in this project.

Sort the list of jobs in this project by last execution using the arrow button highlighted in the image below.

Clear your search results and sorting selection by clicking on the 'x' icon on the right.